About East West Martial Arts
East West Martial Arts was founded by Sifu Kevin Seaman in 1982 with the premise that each student is an individual and should be given the opportunity to grow to, and beyond their own potential.

It is Sifu Kevin's firm belief that the ability to defend one's self and the strength and confidence that are developed with it, are not mysterious secrets that take years and years to learn. Teaching within the approach that results are achieved through a progressive training program, when properly followed develops the individual's ability to defend themselves, increases their self awareness, strength, and self-confidence Sifu changed many people's traditional ideas about the martial arts.
Unresponsive to pressure to be part of the status-quo in the Martial Arts Industry, Sifu was an huge advocate of cross-training and the integration of both physical and psychological modern fitness concepts as part of his curriculum in the early 1980's. Using the Jeet Kune Do philosophy of "Absorb what is useful, discard what is not, add what is specifically your own, and research your own experiences", Sifu Kevin developed within the EWMA program, a unique and cutting edge aproach to teaching the martial arts and enriching the lives of thousands of martial artists.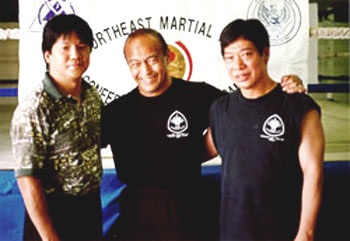 Sifu Kevin Seaman was the founder of the Northeast Martial Arts Conference in 1986, offering camp participants the opportunity to train with such amazing individuals as Sifu Dan Inosanto, Sifu Francis Fong, Ajarn Chai Sirisute, Sifu Larry Hartsell, and World Champion Shootwrestler Erik Paulson in a professional and organized venue. The NE Conference continued for 8 years and was enjoyed by participants from all over the world. The NE Conference was so popular that it was used as a template for The Southeast Conference produced by Sifu Francis Fong in Atlanta and The Southwest Conference hosted by the world reknown Inosanto Academy of Los Angeles.
Using modern training equipment and up-to-date teaching methods, the expansive 5,300 square foot East West Academy operated for nearly 20 years in the Cortland area, closing in 2003.
As with all things, change is enevitable. In order for Sifu Kevin to maintain his personal growth and develop the many projects congruent to his personal goals, Sifu decided to close the East West Martial Arts Academy in September of 2003. Sifu maintains a full schedule teaching in the Athletic Department at Cornell University. He is the first instructor ever to teach a credit Physical Education course in Jeet Kune Do, Brazilian Jiu Jitsu, Filipino Kali, and Thai Boxing at an Ivy League University. Sifu Kevin is the striking coach and Mental Performance Coach for UFC Pro MMA Fighter,Tamdan "The Barn Cat" MCrory. In addition to CNY MMA, Sifu teaches Thai Boxing and Filipino Kali at Tai Kai Jiu Jitsu in Liverpool, NY.Sifu also maintains an impressive association of instructors and aproximately 500 students throughout the USA. He offers his teaching skills through seminars and private classes.
Sifu has long been known for his ability in coaching individuals, both in and out of the competitive arena. He just finished his new book called The Winning Mind Set with Jim Brault. The book is based on the system of personal achievement taught in his Sports Psychology course at Cornell University. Recently published, the book and Audio Book is an extraordinarily comprehensive, results oriented system of performance enhancement that has been used successfully by hundreds of individuals to date.