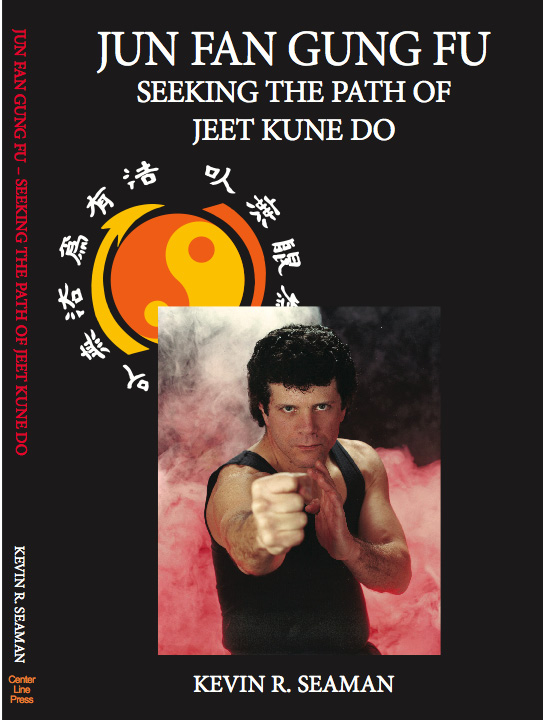 East West Martial Arts is currently accepting orders for the New Edition


Jun Fan Gung Fu: Seeking the Path of Jeet Kune Do
By Sifu Kevin Seaman
Now Re-released by popular demand, Sifu Kevin Seaman will share his experience of nearly 40 years of study in various martial arts systems in this highly informative text on Bruce Lee's Jun Fan Gung Fu and the art and philosophy of Jeet Kune Do. Included in this volume are core techniques with detailed descriptions and numerous drills to help you develop the essential framework for success in Jeet Kune Do.
Sifu Kevin Seaman is currently one of a select few, having achieved the rank of "Full Instructor" in both Kali & Jun Fan / Jeet Kune Do under Sifu Dan Inosanto. Jun Fan was developed by the late Bruce Lee and taught to his personal apprentice at the time, Dan Inosanto, Jun Fan Gung Fu is the foundation from which Jeet Kune Do eventually evolved. This realistic, modern training approach cultivates strong physical, mental and emotional development.
Only $24.95
+ FREE Shipping
(within the USA.)
Available Now!

"Kevin has done a fine job of organizing the basic essentials needed for learning Jun Fan Gung Fu, which is essential for finding "your own path" in Bruce Lee's Jeet Kune Do. Kevin's organization of this book exceeded my expectations"...
- Sifu Dan Inosanto

"Kevin, your book is just as valuable as the Tao Of Jeet Kune Do!"
-Sifu Dan Inosanto
"I congratulate Sifu Kevin Seaman on providing Martial Arts practioners with a helpful source of information for the study of Jun Fan. His discipline, sincerity and dedication have made him a fine teacher"
-Sifu Francis Fong
Atlanta, Ga
"Through Mr. Seaman's dedication, hard work and perseverence he has developed this valuable resource of information which is easy to comprehend and makes it appealing to both the expert and novice alike."
-Erik Paulson
Light-Heavyweight World
Shootwrestling Champion
Founder of CSW Worldwide
Los Angeles, Ca
To receive your personalized autographed copy of
Jun Fan Gung Fu: Seeking the Path of Jeet Kune Do

please call 1-607- 423-5159

to order with Visa / MC / Discover / AmerX


East West Martial Arts LLC
326 Barrington Rd., Syracuse, NY 13214
NY State residents Please add 8% Sales Tax
Here's What the Readers Are Saying!

Dear Sifu Seaman, in Jun Fan Gung Fu: Seeking the Path of Jeet Kune Do, you mention other upcoming books, particularly one on drills. Your first book is, in my opinion, one of the most well organized and logically structured martial arts books ever. Will there be a second soon? Thank you.
-Drew Baye

I just bought and finished reading your book, "Seeking the Path of Jeet Kune Do". It was excellent! I found it very informational and very well explained. And the pictures were excellent guides to accompany the text. Keep up the great work. Hope to see more!
-Richard Escobar

Seeking the Path of Jeet Kune Do by far is the best book I have in my collection so far. Looking forward to any other books you put out.
-Niele

Just wanted to let you know I received the book I ordered. The book is a great compliment to your videos and a must have to JKD/Martial Arts practitioners library. Thank you for sharing your knowledge.
-Ben

Sifu Kevin That was one of the best books on jfjkd that I have ever seen! Thanks
-Jim

The book is very clear and concise. The writing and illustrations are a sober approach to self defense. Bruce Lee was light years ahead of his time, that is why I am so intrigued with JKD. This book is a must for all who study martial arts. All I can say is thank you and I look forward to meeting you.
-Marius Vanenburg

Great book, I found it very informative and enjoyable to read, it lays the ground work for the basics of JKD, and offers a vehicle for self discovery and self improvement.
-Anthony Ma

I recently purchased Sifu Kevin Seaman's book, and it is excellent. I find myself rereading it frequently. I have recommended this book to those who are interested in Bruce Lee's art (even before reading the Tao of Jeet Kune Do). I reside in Puerto Rico, and it's not easy to travel to the U.S. to seek certain instructors. Your book serves as a useful reference.
-J.C. Shannon

Please could you say when Mr. Seaman's 2nd book will be available to buy as I have the 1st book and the two videos he has produced and I think they are great.
-Mr. A Woodward

I have read and continue to read on a regular basis Kevin's "Seeking the Path to Jeet Kune Do" and find it an inspiration. My base art is Karate but I also train in J.K.D. and enjoy the freedom that J.K.D. offers especially the 'find out for yourself' aspect.
-Neil Baker
I just read your book, and I love it!!! I can't wait to see your video's. I know I will enjoy them too!!! I'm a Filipino Martial Arts black belt, and JKD player as well. I live in Wichita, Kansas, we have no JKD schools here, so I go to nearby seminars to learn. One day I hope we get JKD here, even if I have to do it myself...thanks!!!
-Garry

I would just like to say a big thank you for writing your book. It is one of the only books I have read and reread - and has drills. (The only other one I have come across as descriptive would be Sifu Rick Fayes' Introduction to Pannatuken) Once again thank you very much for your time spent writing a very informative and easy to read book - I hope you find time for another volume.
-C. Finnerty (Scotland)

I just wanted to commend you on your journey in the martial arts, you have a good perspective on Jun Fan Gung Fu. Yours is key in my library.
-Scott Dixon

I purchased your book (1999) last week, and am about 1/2 the way through. I am VERY impressed! I have an extensive collection of most of the Jun Fan and Concept books on the market but your book is very well written and gives me much to think about. I am in Ray Copeland's Instructors program, so have been at it for several years, but I learned much from closely reading you book. I have a goal to teach in the near future, and I count information in your book as a valuable reference.
You have an excellent way of explaining detail and principles. Are you coming out with another book? I know putting together a book must be very time consuming, but I encourage you if you are now considering. I think it would be very well accepted.
Thanks again for giving me the benefit of doubt about the e-bay item! Look forward to meeting you one day.
-Gary Poe

I'm writing to you to inform you I just bought your book "Seeking the Path of Jeet Kune Do" and I was pleased to finally see a book so accurate and comprehensible in it's JKD teaching and information! The book was amazing!
-Dayton Schlossser
Sifu Kevin, I have got to tell you that your book is the most comprehensive piece of martial art text I have ever had the incredible pleasure to read. I find myself reading and rereading many of the chapters, using it frequently as a guide for myself and my students.
Thank you,
-Jon Bartholomew,Ph.D.